Geezus it's barely December and I'm already feeling the anxiety swell. So many events, gifts, decorating, cooking, cleaning and our family calendar is exploding. Trying to take a deep cleansing breath to prepare myself for the madness. Here are some things I may or may not do to get through the next month.
Refuse to get offended. That's right, I won't get offended over much of anything. Parties I don't get invited to (phew I needed a night off), gifts I don't get and people that say "Happy Holidays" instead of "Merry Christmas". I think you need to tuck your privilege in if you get insulted by a salutation that doesn't start with "Hey @sshole", that's just my opinion.
I will not force traditions. Traditions are great, until they aren't. I make seven fishes for Christmas Eve. It's a nod to my Mother in-law who passed away in 2007. I am not Italian by birth so I was excited to embrace this as something my kids will reflect on later in life (thankfully they like fish). That one is a keeper. Seeing some variation of A Christmas Carol or the Nutcracker every year is repetitive and expensive so we gave it up.
Speaking of traditions….maybe you are one of the millions who has that Elf on the Shelf creature living rent free in your home. Sick of moving it? We watched this in mid November, oddly enough the kids have lost interest in Dash.
Just say "No." No is indeed a complete sentence which does not require further explanation. You really don't have to go to every event that crosses your path. Scale back if you are so inclined. I go to a cookie throw down each December. It's a great time and people that bake need to bring 10 dozen cookies. It's a fun competition and I still attend the party I just don't bake 10 dozen cookies to cross the threshold. The hostess has cleverly turned this into a charitable event by encouraging non-bakers to donate to a local Ronald McDonald House. Everyone wins and there are still cookies.
Back up gifts. This one has saved me a thousand times. Have some back up gifts on hand, already wrapped and ready to go. I keep extra gift cards, bottles of wine and a few generic toys and books on the ready in case it's needed. It doesn't have to be expensive just something to ease that awkward moment when someone  hands you an unexpected gift.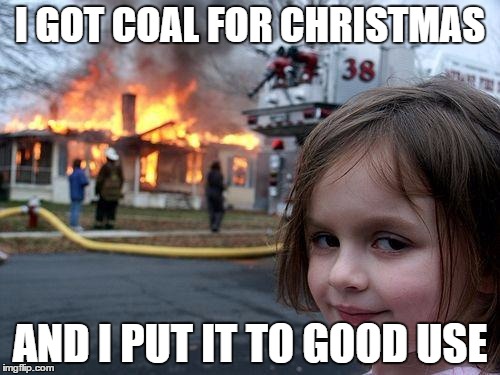 Meditate. This always invokes an image of the Dalai Lama sitting crossed legged, breathing in exaggerated "Aaaaaaaaaaaaahs". Sure that works but it isn't the only way to meditate.
According to Psychology Today – Meditation is the practice of turning your attention to a single point of reference. It can involve focusing on the breath, on bodily sensations, or on a word or phrase known as a mantra. In other words, meditation means turning your attention away from distracting thoughts and focusing on the present moment.
Yesterday, I worked on a 1,000 piece puzzle. It calms me and clears my head. Your meditation can be anything – walking, knitting, exercise – as long as it takes your full concentration and shushes your brain.
Whatever and however you celebrate, I hope it's great!